Thursday 16th March 2017: News Day
Today students have been working on a report about the importance of school trips.

Highshore School BBC School Report 2017: Why are School Trips Important? from Highshore School on Vimeo.
Interviewer: Takudzwa yr8         Camera: Ola (Work Experience Volunteer)
Interviewees: Joshua Yr9, Montel Yr11, Alfie Yr7, Caroline Yr8, Tom Yr9, Miguel Yr9, Sheri Yr11, Elin Yr11, John yr12, Peter Yr10 
Thursday 10th March 2016: News Day
The following videos are all researched, filmed, presented and edited by pupils of Highshore.
Report trying to find out why school is so important.
Filmed by the School Report News team 10/03/2016
School Reporters: Viamer, Caroline, Marcus, Mohamed, Mahir, Joshua, Zak.
---
Report on the news that Kanye West is to stop releasing music on CD. "Who uses CDs?"
Filmed by the School Report News team 10/03/2016
School Reporters: Montel, Sheriff and Nazir
---

Film by Bradley and Alastair, 12A. Documenting their experience of the Highshore Enterprise Programme.
Filmed over the last term. Uploaded 10/03/2016
---
Tuesday 19th January 2016
Our school reporters met with Josie from BBC School Report today who really grabbed their interests.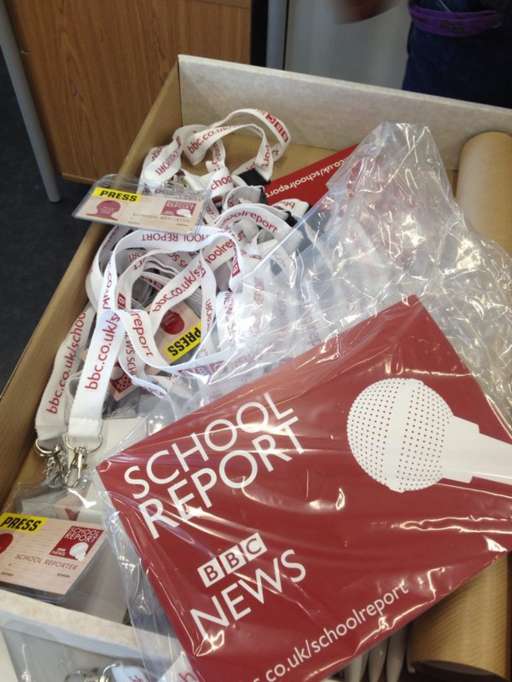 BBC school report press pass lanyards were given out in the meeting and Josie's showed us they were just like hers!
Ideas for stories are coming thick and fast including:
-Looking at local crime
-Bullying
-Weather reports
-School enterprise feature report
-Interview with a local (and very famous) artist
-Feature on our Business Links day on 10th Feb
Watch this space for updates and our first BBC School Reports.
---
Students from Highshore School will be making the news for real on 10 March 2016 as they take part in BBC News School Report. We aim to publish the news by 1600 GMT on the News Day, so please save this page as a favourite and return to it later. Please visit this page for student news updates about what's been going on in Highshore.